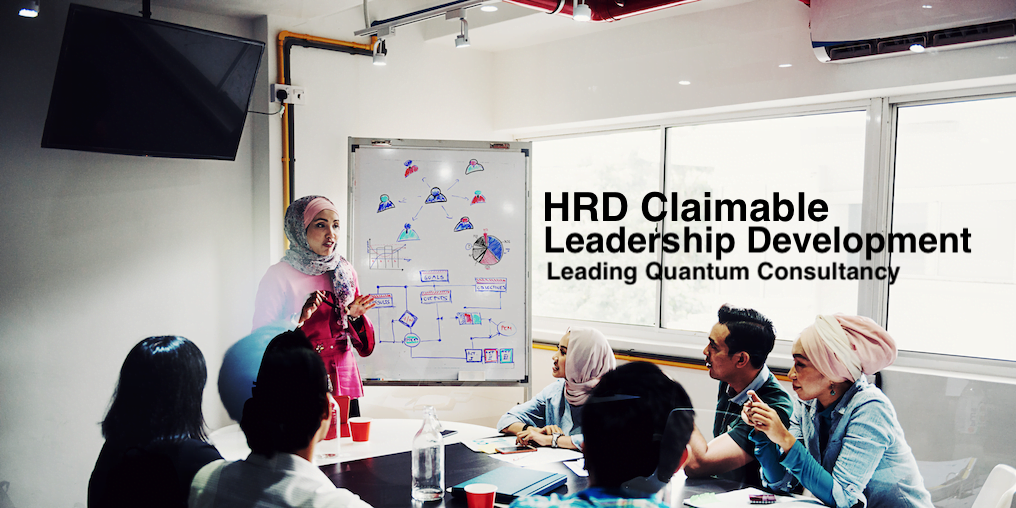 Elevate Leadership Excellence with HRD Corp Claimable Courses at Leading Quantum
Embark on a transformative journey in leadership development with Leading Quantum's HRD Corp claimable courses. Our meticulously crafted training programs empower leaders to navigate complexities, inspire teams, and drive organizational success.
Why Choose Our Leadership Development Training?
1. Tailored Curriculum: Our courses are designed to address the unique challenges of modern leadership, ensuring relevance and immediate applicability in your professional setting.
2. Expert Facilitators: Learn from seasoned industry leaders and experienced facilitators who bring real-world insights, enriching your understanding of effective leadership practices.
3. HRD Corp Approved: Our courses are HRD Corp claimable, providing you with the opportunity to enhance your leadership skills while optimizing your HRDF fund.
Key Benefits:
– Strategic Vision: Develop a strategic mindset to navigate dynamic business landscapes.
– Effective Communication: Hone communication skills to foster collaboration and engagement.
– Change Leadership: Equip yourself to lead and manage change effectively within your organization.
Maximize Your HRDF Fund Today:
Invest in leadership development that pays dividends. Explore Leading Quantum's HRD Corp claimable courses in leadership development and elevate your leadership prowess. Unlock the potential of your team and position your organization for sustained success. Enroll now and lead with confidence.
LQ's Leadership Development Courses include:
The LQ team of professionals is highly experienced in the application of Management tools and techniques in a wide range of manufacturing and service industries.
Dynamic Supervisory Skills
Highly Effective Supervisory skills
Dynamic Leadership
Executive Development
Highly Effective Managerial Skills
People Skills For Managers
Teambuilding
Team power
Handling Conflict At Work
Transformation Management
LQ believe it is of utmost important to be able to offer long-term support to our clients. Our principle purpose is to help the client design and established a Management System that is not only compatible with the client's company culture but also meets Management System requirements.
WHY LET US HELP YOU WITH YOUR TRAINING ROUTINE?
LQ offers hands-on training in the important area of quality auditing. We also provide on-going assistance in training auditors and conduct internal audits to identify system weaknesses and areas for improvement. Our training services included quality revolution and awareness for senior executives, management and staff.
The LQ trainers are Subject Matter Experts and well versed with training methodologies and consulting techniques to provide our clients with highly consistent and effective services to achieve OUTCOME BASED MODULE and RESULT ORIENTATED.