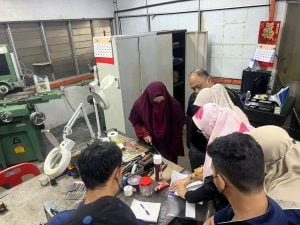 At Leading Quantum Consultancy Sdn Bhd, we understand the importance of safe and responsible chemical handling in the workplace. Our comprehensive training programs are designed to help your organization reduce the risk of accidents and injuries associated with chemical handling.
Our experienced trainers have a deep understanding of chemical safety and are committed to delivering high-quality training programs that are tailored to meet the specific needs of your organization. Our programs cover a wide range of topics, including the proper handling, storage, and disposal of hazardous chemicals, risk assessment and management, emergency response procedures, and more.
We work with clients across various industries, including manufacturing, chemical processing, healthcare, and more, to ensure that their employees are equipped with the knowledge and skills necessary to handle chemicals safely and effectively. Our training programs are designed to be engaging, interactive, and effective, and we strive to ensure that every participant leaves with a clear understanding of best practices for chemical handling.
We are dedicated to helping our clients achieve their business goals while maintaining a safe and healthy workplace. Contact us today to learn more about our chemical handling training programs and how we can help your organization ensure safe and responsible chemical handling practices.